I just returned from Las Vegas after four days and nights in Sin City at the NAB convention. For the first time since Sunday, I did not have a Canadian Club & Ginger Ale before dinner.
I've been going to Vegas for years and have seen it change dramatically. Here's what I noticed this year that has changed.
1) Net access - The hotel I stayed at had wired AND wireless internet in every room. After resisting for years at putting anything inthe rooms that would keep you in the rooms, the hotels are starting to do whatever it takes to peel more money out of people's wallets.
2) Poker - The poker on TV craze has created a much larger devotion to poker in Vegas. The poker rooms are larger, busier and more popular than anytime in the past. The poker rooms we saw were packed with full tables all the time.
3) Hookers - It looks like people are taking the 'What happens in Vegas, Stays in Vegas' marketing line for all it's worth. For the first, the hookers were blanant and obvious in a major hotel. For hours on end, new women would show up at a casino bar, chat up a guy, and soon be off to the rooms. Conversations with the dealers revealed that the casino is permitting it as long as everyone behaves. This is huge. For the big, corporate casinos to turn the other cheek to this stuff, the police and city have to be in on it.
Lastly, they have torn down a classic Vegas establishment. Yes, the Kosher Deli & Internet Cafe.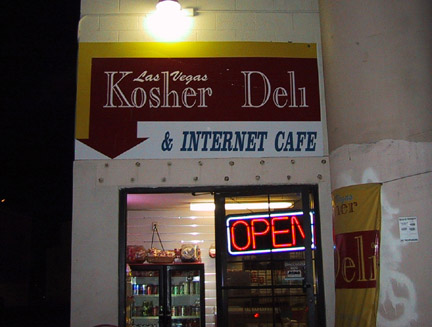 Las Vegas Kosher Deli & Internet Cafe
RIP ?-2004
Posted by michael at April 22, 2004 09:19 PM