I get back from lunch today and see an instant message from Martin. It says 'you seen reverse cowgirl today?'. I link on over and see this post and say 'Holy shit'.
To those not up on the blogosphere scene, Reverse Cowgirl is a well known weblogger in LA. She could be considered a weblog celebrity by many in the weblog world. Somehow she ended up on Martin's site. She like the site and Martin. A lot. Enough to devote an entire post to how cool Martin is.
I guess I don't always seen Martin as that cool. He's one of my best friends and I take it for granted that he's an actor and has plenty of cool stories. Our families hang out pretty much every weekend and we try to drink beers at least once a week sans wives. I even know what kind of pr0n he likes to download. But obviously, I underestimate his coolness. I mean he can't even fix his own doorbell...
I guess I better re-edu-macate myself on what 'cool' is all about. I think I have long way to go. I'm the guy that brought a laptop and a cantenna to Hooters so we could surf the web from the bar...
Martin hosts his site on my web server. I looked at the bandwidth usage and his site's sucking down the bandwidth. Gigabyte after gigabyte. I can only hope that some big Hollywood producer sees Martin and and decides to offer him a six-figure development deal ASAP. Previously, Martin had promised me a shoutout when he wins the oscar. Now I'm one step closer to being part of a real posse.
In an attempt to absorb some of Martin's coolness & fame I will post this picture of us together drinking scotch.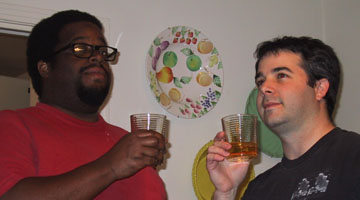 Posted by michael at February 24, 2003 02:42 PM