Today I actually waited outside in a line to buy tickets to a concert.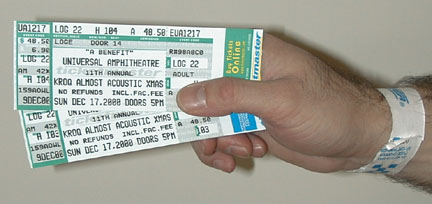 Yes, I got lucky and had the bracelet that put me third in line to get tickets. Yes, Michele and I will be seeing the following bands: Deftones, Incubus, Moby, No Doubt, Papa Roach, Weezer, Disturbed, Linkin Park, Green Day, and Everclear.

Everclear is Michele's favorite band, and Green day is mine. Good karma I guess.
Posted by michael at December 09, 2000 01:21 PM